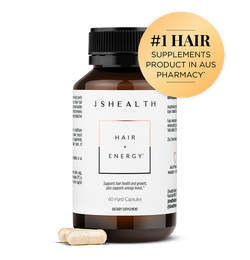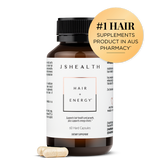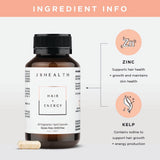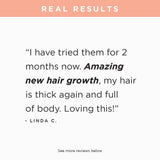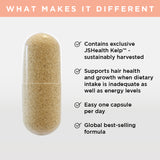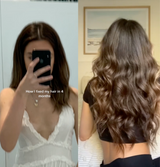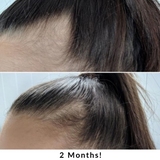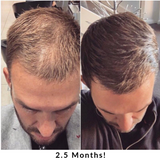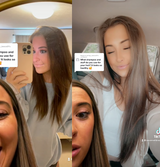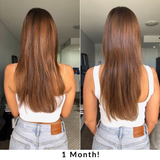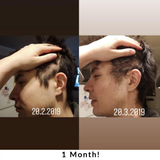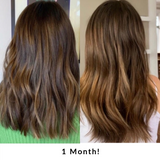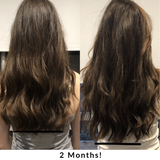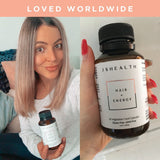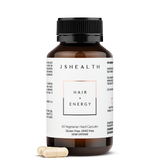 Hair + Energy Formula - 2 Months Supply
Achieve thicker, stronger, healthier hair with our global best-selling ingestible formula starring Iodine from exclusive... More
Achieve thicker, stronger, healthier hair with our global best-selling ingestible formula starring Iodine from exclusive JSHealth Kelp™ along with Zinc… for results with just one capsule a day*.
+ 39 Loyalty Points


people have just viewed this formula
Exclusive member savings
Cancel or edit at anytime
Regular rewards + gifts!
Access to the JSHealth App
Early access to sales!
No.1 Hair Supplements Product in Australian Pharmacy*
Developed by expert nutritionist
A once-daily capsule
Using exclusive JSHealth Kelp™ - our proprietary research-backed ingredient
Supports hair growth + health*
Maintains hair thickness + strength*
Maintains nail health + strength*
Supports energy levels*
Gluten-free
Hair + Energy Formula - 60 Capsules. Product of Australia.
Meet your hair's new best friend with 4663 verified reviews!
Created by the leaders in ingestible haircare, Hair + Energy supports hair health and growth, plus maintains energy levels, with Iodine from our exclusive blend of JSHealth Kelp™ and Zinc. It also maintains hair thickness and strength.* Because stronger hair starts with inside out care.
HAIR, NAILS, SKIN: Iodine maintains and supports hair growth and health. Zinc maintains and supports hair thickness and strength. Zinc also supports skin health. Plus, it maintains nail health and strength.*
ENERGY: Iodine maintains and supports energy levels and healthy body metabolism. It also maintains and supports healthy thyroid gland function and thyroid gland health.*
Take a look at the verified customer reviews below.
Carefully formulated to care for you.
The JSHealth Hair + Energy formula contains two forms of Kelp, as well as Zinc.
Each capsule contains:
Ascophyllum nodosum blade and stem powder 211.11 mg
equiv. Iodine 190 micrograms
Fucus vesiculosus ext. dry conc. 50 mg, from whole plant dry 1 g
equiv. Iodine 10 micrograms
Total Iodine 200 micrograms
Zinc amino acid chelate 50 mg
equiv. Zinc 10 mg
Other ingredients: Microcrystalline cellulose, Magnesium stearate, Silca, Hypromellose, Purified water.

Contains galactose, crustacea, mollusc, and fish.
Traces of crustacea, mollusc, and fish are possible through exposure of Fucus vesiculosus and Ascophyllum nodosum in the marine environment.
Does not contain gluten, egg, milk, peanut, sesame products, or artificial colors.

♻︎ All JSHealth Vitamins are recyclable in your normal household recycling. We use HDPE and PET recyclable plastic to reduce packaging waste. Please recycle your bottles.
Adults, take 1 capsule once daily, with water, after breakfast, or as directed by your health professional. The maximum dosage is 1 hard capsule daily.
WARNINGS:
CAUTION: Use as recommended. Pregnant or nursing mothers, children under 18, and individuals with a known medical condition should consult a physician before using this product. Vitamin and mineral supplements should not replace a balanced diet. Keep out of reach of children.

Storage instructions: Store below 77°F in a cool, dry place away from direct heat and sunlight. Avoid excessive heat above 100°F. Do not use if tamper evident seals are broken or missing.
This is an international product. Slight variations to label text may occasionally occur.
*In terms of Retail value sales, IQVIATM, Pharmacy Sell Out Service, Hair, Skin and Nails Supplements and Hair Growth Supplements Vitamins category, Value Sales, 52 weeks until W/E 31-10-2023.
Redefine your haircare journey.

Created by a leading nutritionist, Hair + Energy is designed to empower your hair with the best of science and nature! We use two high quality kelp materials that are a natural source of Iodine to support hair growth and health in our convenient once-a-day capsules.*

A true botanical hero from the sea, our exclusive JSHealth Kelp™ grows in the pristine ocean waters of Nova Scotia and Brittany, where it is harvested on an environmentally sustainable basis. The JSHealth Kelp™ is a complex containing fucoidan and marine polyphenols, sourced from wild Fucus vesiculosus and Ascophyllm nodosum seaweeds.
QUALITY + CARE:
Our team of health experts source the ingredients in our products with great care. We ensure quality and specific doses of actives are placed in each of our targeted formulas to achieve its indications.
We believe in nourishing your health, confidence, and well-being with a holistic approach.
The indications behind our ingredients:

IODINE (from JSHEALTH KELP™):

Kelp is a sea vegetable that absorbs minerals from ocean water and is an amazing natural source of Iodine. Iodine is a trace mineral that is vital for many important functions of the body. The JSHealth Hair + Energy contains Iodine from two high quality kelp materials which:
Supports healthy thyroid gland function

Support healthy body metabolism

Supports hair health and growth

Supports healthy brain function

Supports general health and well-being
ZINC:

An essential trace mineral which helps to maintain normal healthy hair, skin, and nails.
Helps to maintain healthy skin

Supports nail health

Supports skin health

Supports healthy body metabolism

Supports healthy immune

system function
*These statements have not been evaluated by the Food and Drug Administration. This product is not intended to diagnose, treat, cure, or prevent any disease.
Standard Shipping (3-7 Business Days)
$4.99 for orders under $49.99 FREE for orders over $50
Expedited Shipping (2-3 Business Days)
$9.99 for orders under $64.99 FREE for orders over $65
KEY INGREDIENTS
JSHealth believes in truly nurturing the body and nourishing it with the right nutrients, minerals and herbs to reach its full potential.
Iodine (from JSHealth Kelp™)
Customer Reviews
Individual results may vary.