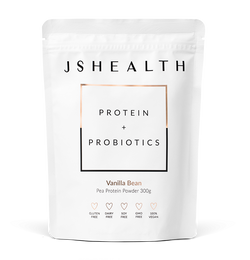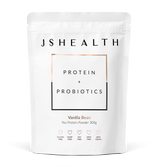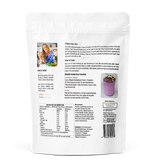 Protein + Probiotics 300g - Vanilla Bean
A delicious, easy-to-digest vegan pea protein enriched with the benefits of probiotics.
A delicious, easy-to-digest vegan pea protein enriched with the benefits of probiotics.
+ 29 Loyalty Points


people have just viewed this formula
Exclusive member savings
Cancel or edit at anytime
Regular rewards + gifts!
Access to the JSHealth App
Early access to sales!
100% vegan plant protein

Probiotics to support healthy digestion

Sustainably grown ingredients

Available in 2 delicious flavors
Protein + Probiotics - 300g Pouch
Gluten Free. Vegan. GMO Free. Aus Made.
Introducing our high-quality Protein + Probiotics range. Combining plant-based protein with the addition of probiotics, these protein powders are great for the gut and are the perfect addition to your morning smoothies. They come in two delicious flavors, Vanilla Bean and Chocolate Brownie.
This protein powder is:
Plant-based, 100% vegan
GLUTEN FREE, DAIRY FREE, SOY FREE, GMO FREE
Great tasting, smooth texture
NO GMO ingredients
No fillers, added sugars, chemicals and preservatives
One of the highest amounts of protein per serving
20 grams of Protein per serving

Low Calorie - only 124 Calories per serving (uses a natural plant based sweetener that does not have the chemical taste of Stevia)
Vanilla Bean Pea Protein isolate, Natural Vanilla Flavor, Himalayan Pink Salt, Natural Sweetener (Thaumatin*), Probiotics (Lactobacillus Rhamnosus GG). *Katemfe fruit extract
NO ADDED: Gluten, Wheat, Sugar, Dairy, Soy, Animal products, Artificial colors, Artificial flavors, Artificial sweeteners.
♻︎ All JSHealth Vitamins are recyclable in your normal household recycling. We use HDPE and PET recyclable plastic to reduce packaging waste. Please recycle your bottles.
Enjoy one or more servings of Protein + Probiotics per day, depending on your diet and activity level. Simply add 2 tablespoons (30g) to a shaker containing 300ml or more of water or your choice of milk and shake.
Alternatively, blitz the protein with your choice of milk, ice, fruit and healthy fats to make a delicious smoothie.
WARNINGS:
Always read the label. Follow the directions for use.

Store below 25°C in a cool, dry place away from sunlight.

Do not use if the seal on cap/lid has been broken.

The protein range should be suitable pregnancy and breastfeeding, and may provide some of the nutrients the body requires during these times. However, as everyone's requirements vary, we advise consulting your healthcare professional before taking any nutritional supplements.
Our gut-loving Protein + Probiotics formula contains the addition of the probiotic strain Lactobacillus Rhamnosus GG (LGG) to support healthy digestion.
QUALITY:
Our team of health experts source each ingredient in our products with great care.
Pea Protein Isolate:
Supports muscle health and repair

Can increase satiety (feeling of being full/satisfied after meals)

Provides a source of complete protein (contains all essential amino acids)
Lactobacillus Rhamnosus GG:
Supports a healthy digestive system

Maintains beneficial bacteria in the gut
Standard Shipping (3-7 Business Days)
$3.99 for orders under $34.99 FREE for orders over $45

Expedited Shipping (2-3 Business Days)
$9.99 for orders under $64.99 FREE for orders over $65
Customer Reviews
Individual results may vary.